2006
June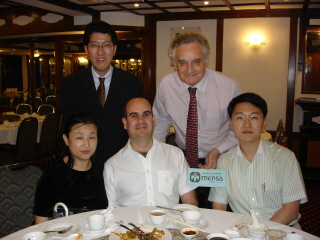 2006/06/19: Meeting with Hong Kong Mensa (Andrew Crampton, Simon Clennell, Lydia H.S. Lee, and Edward W.H. To)

Writer: Jaeyoun Kim
Time/Place: 7:30 pm / Crystal Palace Restaurant, 1/F, 16 Cameron Road, Tsim Sha Tsui
Hong Kong Mensa organised a special Mensa dinner for me on the 19th. The meeting venue was very near from my hotel. We were all five people including me. I was very surprised to know that Mr. To worked in Seoul and just came back to Hong Kong. We were very happy to share our ideas and activies about Mensa. I also asked their experience on web hosting and email services, for I thought their know-how would help Mensa Korea to make proper guidelines for our email service.
August
2006/08/09: New Members Evening (London Mensa)
Writer: Yoonjoo Choi
Time/Place: 6:00 pm / The Samuel Pepys(http://www.thesamuelpepys.co.uk/, Stew Lane, Around Mansion House tube station)
The meeting was hosted by Suse Hankins, and the pub in which the meeting was held was located along the river Thames. One can see the millenium bridge over the pub windows. The pub provided beautiful scenery and sunset of the metropolitan city. We were a group of three, Eukyoung Hwang who has been traveling aroung the world, Seungho Lee who is going to say in London and myself who is leaving London soon. The meeting was sort of party for newly joined London mensans. There were about 25 people including 4~5 new mensans. They welcomed us with friendship.