If you're interested in becoming a member of Mensa Korea, you need to take the admission test.
The admission test is interesting and challenging, and provides a statistically reliable basis for the measurement of intelligence.
It involves only symbols and pictorial representations, and does not require knowledge of any particular language or mathematics. In other words, the test is simply figure-based, and no prior knowledge of any particular language is assumed.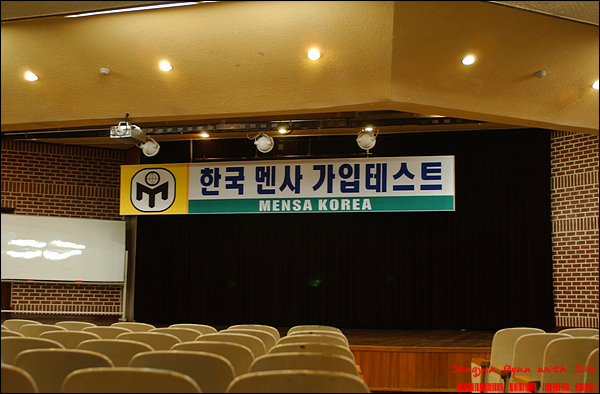 Candidates for membership in Mensa Korea must achieve a score at or above the 98th percentile (a score that is greater or equal than 98 percent of the general population taking the test), approximately IQ 148, on a standard test of intelligence as administered and determined by our psychologists. If you qualify, we will be happy to invite you to join Mensa.
1. Test Schedule
Mensa Korea holds test sessions in Seoul and other major cities in the province. Please send an email to our Assistant Administrator if you want to know schedule. (mensagansa [at] gmail [dot] com)
2. Registration
Please complete the registration form below, and send this form to the Head of Test Committee.
Please register at least two days prior to the exam date.
Once you have sent your registration form, then you will be confirmed about your registration by an email from the Head of Test Committee. However, in case you do not receive such a mail, please contact the Head of Test Committee at least three business days prior to your test date.
Title: Book for the test of DD/MM/YYYY (DD: Day, MM: Month, YYYY: Year)

Last Name:

First Name:

Gender:

Nationality:

Date of birth (DD/MM/YY):

ID Number (Resident Registration Number or Passport number):

Name of Bank Account holder:

Date of makeing remittance of the test fee:

Local postal address (in Korea):

E-mail:

Telephone number:

Mobile number:
3. Test Fee
4. Requirements
Candidates must be 14 or older to take a test.

If you're under 18, parental consent must be provided at the test venue.
5. What to Bring
Proper identification, with a photograph

Black ink pen (Pen will not be supplied at the test site)

Parental Consent Letter (if under 18 years of age)
6. Rescheduling or Canceling
You can reschedule or cancel your test no later than two business days of your test date. You can send the information using the same procedures mentioned above for registration of a test. If you do not cancel or reschedule as indicated above, your full test fee will be forfeited.
7. Refund Policy
If you cancel your test no later than two days prior to your test date, you will receive a full refund.